17/11/2017
Cesab transforms online user experience
Cesab Material Handling Europe has unveiled its new websites.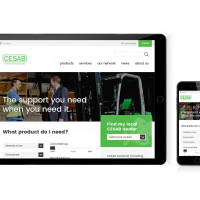 The new Cesab websites are being centred on the strength of Cesab's relationships with customers and its dealer network. The sites offer a transformed user experience, restructured content and improved navigation.
Designed to provide maximum support to material handling buyers and Cesab dealerships, the sites are modern, light and easy to navigate and give users an easy way to identify their needs within a few steps.
An easy-to-use product search function helps people work through a simple step by step process to easily identify the forklift and warehouse products most suited to their needs.
The www.cesab-forklifts.eu site is available in German, French, Spanish and English versions. Cesab also plans to launch it in Italian and make other European language versions available in the future.
Nathalie Arlt, responsible for marketing at Cesab Material Handling Europe said: "Our focus is always on our customers and dealerships. We have a great story to tell about these relationships, as our customers benefit from personalised service, the reliability of an excellent product range and the strength of the wider Cesab network. Our new websites very much reflect these capabilities."
"Giving our customers the right guidance is important. Rather than expecting people to know which products they need our search function asks for relevant data such as 'weight to lift' and 'inside or outside usage' to suggest the best products for those applications."
The new sites have been optimised to ensure users can navigate easily across all digital devices, including desktop, tablet and mobile. Every page offers a clear 'find your local dealer' button, enabling European customers to identify which of the 120 exclusive Cesab dealers is closest to them.
Once they are at a product page, people can find out more about each product in use by viewing a relevant case study showing how the Cesab range works in practice for customers in a variety of industry sectors.
Cesab websites for the UK, Germany, France and Spain have been launched as well, with all other distributors and dealerships' sites to be unveiled on a rolling basis in the next coming months.
For more details please visit www.cesab-forklifts.eu / www.cesab-forklifts.co.uk / www.cesab-forklifts.de / www.cesab-forklifts.fr / www.cesab-forklifts.es