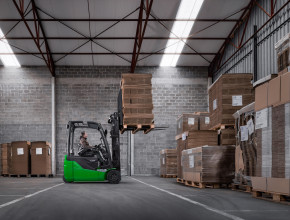 B300
Maximum performance and maximum safety with minimum dimensions
Powerful but compact 48V CESAB B300 lift trucks provide leading performance and exceptional manoeuvrability. As with all CESAB trucks, reliability and safety are assured. Operators will find a spacious cockpit offering an unlimited 360° view and ergonomic and easy to use hydraulic controls. Everything that you need for effortless work and maximum productivity.
CESAB B300 3-wheel trucks are equipped as standard with ISD, CESAB's Intelligent Stability Design. This system actively monitors key parameters of the truck's performance and brings downtime to a minimum and productivity to a maximum.
Good all round visibility and automatic speed reduction when cornering, help the operator undertake safer handling operations with less risk to his environment and less damage the load in busy work situations.
ISD actively contributes to workplace safety with ten sensors, three actuators and one controller that monitor material handling operations and take corrective action when necessary to guarantee the stability of the truck as well as the load.
IMD (Intelligent Mast Design) technology provides industry leading levels of visibility. The low height of the dashboard, the narrow profile of the overhead guard and the open-design fork carriages provide excellent forward visibility of the forks and load.
No matter the position, operators have an unhindered view during load handling, with active safety features helping the operator to handle loads more accurately with less risk to their surroundings or load.
The CESAB B300 comes with fingertip hydraulic controls perfectly integrated in a fully adjustable, ergonomic armrest as standard. Other available options include double-function joysticks or a single multifunction joystick.
Three different pedal arrangements can be ordered: automotive style ones, or a D2 version with direction change on the accelerator or double pedals. In case of the car-like pedals, direction controls are placed on the armrest in front of the mini-levers for ease of access.
The CESAB B300 series can be equipped with lead-acid batteries, which are removed through side-extraction, or CESAB's in-house Li-ion batteries for easy use in multi-shift applications.
The new three-wheel CESAB B300 forklifts mean you no longer need to make a choice between manoeuvrability and performance. You can enjoy both. With powerful 48-volt AC motors, the CESAB B300 delivers exceptional performance that enhances productivity.
Off
Specifications
| Model Code | B315-II |
| --- | --- |
| Power Unit | Electric |
| Load Capacity (Q) | 1500 kg |
| Load Centre (c) | 500 mm |
| Lift Heights (h3) from | 3000 mm |
| Travel Speed with/without load | 16/16 km/h |
| Lifting Speed with/without load | 0.44/0.61 m/s |
| Turning Radius (Wa) | 1455 mm |
| Battery Voltage/Rated Capacity (5h) | 48V / 420-500 Ah |
| Model Code | B316-II | B316L-II |
| --- | --- | --- |
| Power Unit | Electric |  Electric |
| Load Capacity (Q) | 1600 kg |  1600 kg |
| Load Centre (c) | 500 mm |  500 mm |
| Lift Heights (h3) from | 3000 mm |  3000 mm |
| Travel Speed with/without load | 16/16 km/h |  16/16 km/h |
| Lifting Speed with/without load | 0.43/0.61 m/s |  0.43/0.61 m/s |
| Turning Radius (Wa) | 1563 mm |  1671 mm |
| Battery Voltage/Rated Capacity (5h) | 48V / 525-625 Ah |  48V / 630-750 Ah |
| Model Code | B318-II | B318L-II |
| --- | --- | --- |
| Power Unit | Electric |  Electric |
| Load Capacity (Q) | 1800 kg |  1800 kg |
| Load Centre (c) | 500 mm |  500 mm |
| Lift Heights (h3) from | 3000 mm |  3000 mm |
| Travel Speed with/without load | 16/16 km/h |  16/16 km/h |
| Lifting Speed with/without load | 0.42/0.61 m/s |  0.42/0.61 m/s |
| Turning Radius (Wa) | 1563 mm |  1671 mm |
| Battery Voltage/Rated Capacity (5h) | 48V / 525-625 Ah |  48V / 630-750 Ah |
| Model Code | B320-II |
| --- | --- |
| Power Unit | Electric |
| Load Capacity (Q) | 2000 kg |
| Load Centre (c) | 500 mm |
| Lift Heights (h3) from | 3000 mm |
| Travel Speed with/without load | 16/16 km/h |
| Lifting Speed with/without load | 0.38/0.61 m/s |
| Turning Radius (Wa) | 1671 mm |
| Battery Voltage/Rated Capacity (5h) | 48V / 630-750 Ah |
Related case study